1, 2, 3, 4, 5, 6, 7 , 8, 9,
Perseverance: Black Robin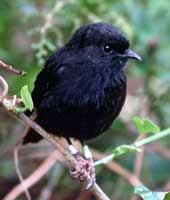 Dr. Jane has met many inspiring conservationists. One such man is Don Merton, who saved the black robin in New Zealand. When he began his breeding program, there were only five of these little birds in existence. Of this group, only one female and one male were fertile. Now there are 250 black robins. Of course, they are all genetically identical, but they have been placed on different islands so that the outbreak of disease will not destroy them all. Learn more about the black robin.