1, 2, 3, 4, 5, 6, 7, 8, 9, 10 , 11, 12,
Observer: What's For Dinner?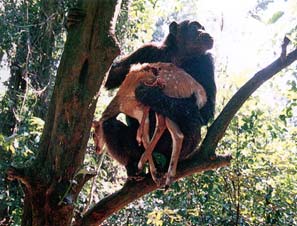 Another important day, at about the same time, was when Jane observed chimpanzees eating meat. A male, a female, and a young chimpanzee were making a meal of a baby bush pig carcass. A few months later Jane saw chimpanzees actually hunting. Their prey was a young red colobus monkey, separated from its troop. The chimpanzees showed real cooperation as they surrounded the monkey while one of them raced up the tree to make the kill. Then they all shared the meat. Before these observations, it was thought that chimpanzees were vegetarians. Chimpanzees have since been seen eating many types of meat, including bush buck as in the photo above.