1, 2, 3, 4, 5, 6, 7, 8, 9, 10, 11 , 12, 13, 14, 15,
Pioneer: Follow the Leader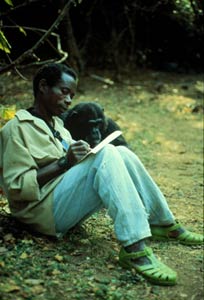 As the chimpanzees became increasingly tolerant of their human observers, it was possible to follow a select individual from the time he or she left the sleeping nest in the morning until the time he or she retired for the night. Typical "follows" last a few days, with some exceptions. Researchers followed Melissa for 55 days after the birth of her twins. When following, researchers collect data on the focal individual's behaviors and interactions with other chimpanzees. They use the time interval technique, keeping a check sheet of behaviors observed in minute-long time segments. Click here to view the chart.