1, 2, 3, 4, 5, 6, 7 , 8, 9, 10, 11, 12, 13, 14, 15,
Pioneer: Name That Chimp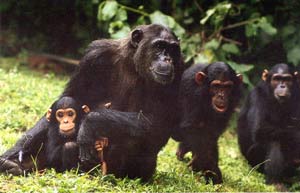 Gradually Jane began to recognize and name more of the chimpanzees. This was an unorthodox way of conducting scientific research, but Jane was not locked into thinking as a trained biologist. She simply named them as she had always named the animals in her life. It is interesting to note that Jane gave family members names beginning with the same letter; for example, Fifi, Freud, and Flirt all belong to the "F" family, named after the matriarch Flo. Learn about individual chimps who live in the Gombe National Park.